The municipal course has been managed by Golf Detroit since late March.
Article by Laura Herberg, Community Reporter WDTE.org (September 4, 2018)
In the 1990s, golfers could choose from six municipal golf courses in Detroit: Belle Isle, Chandler Park, Palmer Park, Rackham, Rogell and Rouge Park.
Today, four are operating. The three run by the city are: Rouge Park Golf Course, Chandler Park, and Rackham Golf Course.
The city floated the idea of selling Rackham under the Kilpatrick Administration and under Mayor Mike Duggan's leadership as recently as this past March but has run into difficulty because the deed requires it to remain a public course. The Belle Isle Golf Course falls under the jurisdiction of the Michigan Department of Natural Resources as part of its lease of the island park.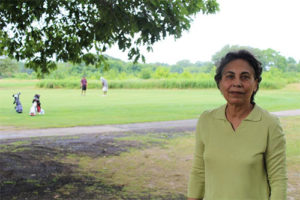 As for the other two, Rogell was sold in 2007, closed in 2013, and the city now plans to buy it back and turn it into a park. Palmer Park Golf Course is currently closed, and an advisory council has been created to determine the future of the course, according to the Detroit Free Press.
Earlier this year, despite questions being raised about whether city administrators followed proper protocols for granting contracts, Detroit City Council awarded Signet Golf Associates II a two-year contract to manage the three open courses. The company also operates the Belle Isle Golf Course and driving range for the Michigan DNR. Signet is operating all of these courses under a new brand it developed called "Golf Detroit."
Karen Peek, director of operations for Golf Detroit, previously worked for American Golf, which managed Chandler Park, Palmer Park, Rackham and Rouge Park for Detroit from 1991-2010. She spoke with WDET Reporter Laura Herberg at the Rouge Park Golf Course in mid-July for a CuriosiD story looking into the question of who designed the course.
They had a bigger conversation about the course's history and future.
CLICK HERE for an edited transcript of their conversation.